Smoking Ultra Slim Filters 5.3mm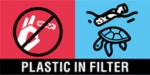 Ultra fine cigarette filters from Smoking. These acetate filters have a diameter of 5.3 mm and come in a handy bag of 150 units. Reduce your tar and nicotine intake with these fine filters that ensure a pleasant smoking experience.

Delivery policy
As our products are in stock, they will be shipped as soon as possible. Usually within 24 hours.