Rizla + Ultra Slim Filters Stick 5.7mm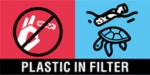 Make your smoking experience even better with Rizla+ ultra slim filters. These filters have a thickness of just 5.7 mm and are 13 mm long, making them a perfect fit for your homemade cigarettes. Each pack contains no less than 120 filters, packed in convenient sticks. Rely on the well-known Rizla brand for quality and enjoy a smoother smoking experience.

Delivery policy
As our products are in stock, they will be shipped as soon as possible. Usually within 24 hours.