Manual table cigarette fillers
SmokerShop offers you a large assortment of manual tube fillers. Those who make their own cigarettes will save hundreds of euros per year compared to those who buy cigarette packets because the price of roll and volume tobacco is much cheaper than the price of the classic cigarettes. Big advantage of its own tube filler is that no one notices that you smoke rolling or tubing tobacco. The taste of the tobacco is the same as with regular cigarette. Which are the best cigarette makers? See our choice here
Which table cigarette injector machine use?
⇒ Within the manual tube filling machines there is a wide choice of type appliances.
⇒ There are both metal and plastic devices. The models in metal are slightly heavier and more robust. Non All devices, the tobacco is pushed into the cigarette sleeve.
⇒ depending on the chosen device, you will pull or rotate a lever. A number of manual spring stoppers have a sliding mechanism.
⇒ Those who want to fill cigarettes faster, you can choose a device that makes 2 or more cigarettes per operation.
⇒ Our best-selling equipment comes with a cleaning kit . Because tobacco can leave some greasy traces in the appliance over time, we recommend that you rinse it regularly with soap and water.
Our most sold manual auxiliary fillers are the Top-O-Matic, Powermatic I, Mikro Matic of OCB and Angel Deluxe.
---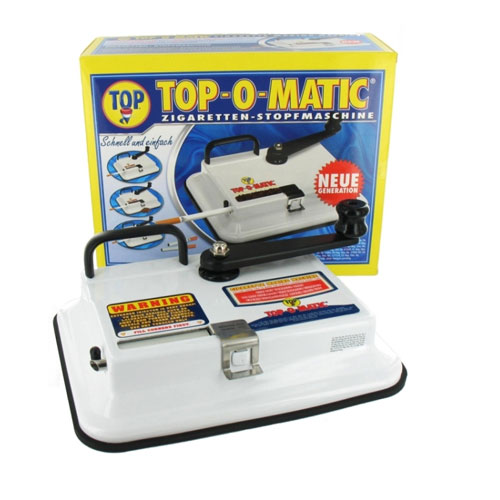 TOP-O-MATIC
The cigarette machine can make both king, XL and 100 mm cigarettes. The model is made of ultra solid metal and extremely durable when you clean the tobacco slot after each use.


The technique is very simple, put your tobacco in the intended place (injection room), you add more tabac in the extremities, put down your empty cigarette tube and turn the crank. Excess tobacco will be cut by knife and reusable for your next cigarette. You just made a perfectly cigarette!

The Top-O-Matic is popular with those who want to make a lot of cigarettes at once. In order to prevent the machine from getting stuck, it is advisable not to use tobacco that is too wet, not too dry or too finely cut.


Maintenance tips for the Top-O-Matic: The injector, pestle and tobacco carrier are easy to clean with cotton swabs, hot water and soap. Make sure all moving parts are free of tobacco dust and oiled (using multi functional household oil).
---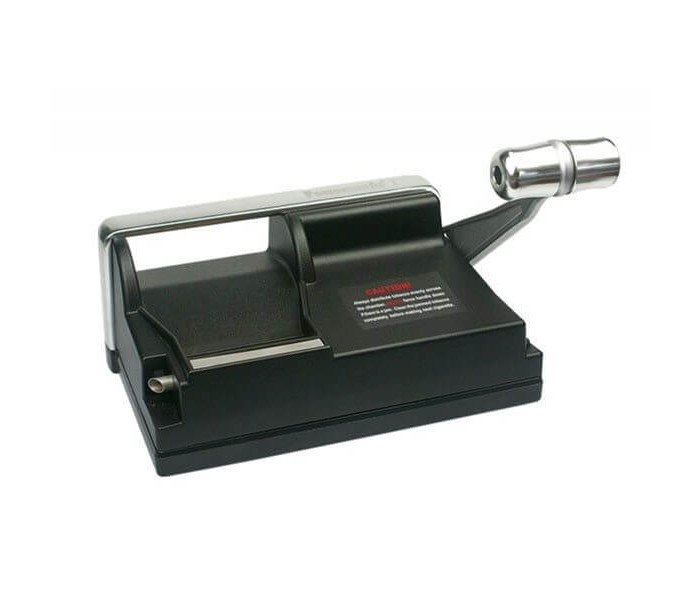 POWERMATIC 1
The Powermatic I is by far the best manual machine. The exterior is made of plastic and the inner parts are made of durable metal.


This unique tubing machine stands out both for its high-quality materials but also for its vertical lever. All of its parts are made of high precision stainless steel. The blade of the titanium-plated tobacco chamber will cleanly cut off excess tobacco. It will allow you to make cigarettes of a high quality of classic size or 100 mm. The Powermatic 1 manual tuber is compatible with all tobacco and tube brands.
This innovative tubing machine has a handle that can be removed for transport. You can remove it by pulling to the right. This model comes with its user manual and a necessary cleaning (sound, brush). Tuber your cigarettes will become a breeze, 3 steps are enough:
⇒ Lift the handle to the tobacco tank opens completely.
⇒ Spread the tobacco in the room and compress slightly with your fingers, you squeeze a little deeper into the ends.
⇒ Pull the handle down to fill your tobacco in to the tube.
Be carefully the Powermatic 1 cutting part is very sharp.
---
MikroMatic by OCB
The MicroMatic is a very practical and lighter manual tube filler. This device is one of the best manual machines. Using the MicroMatic is very easy. The handle can be moved to the other side without too much force. With this easy action, you fill the entire tube with tobacco. Then you can remove the cigarette from the filling mouth.
⇒ Place the cigarette tubes on the left of the machine
⇒ Place the tobacco in the opening on top by slightly tracing the handle clockwise
⇒ The cigarette is ready!
---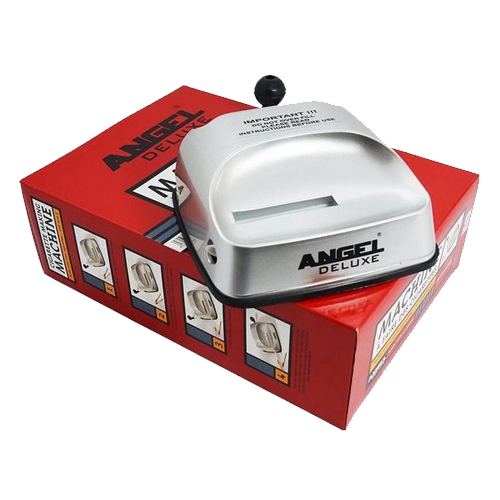 Angel Deluxe
With the Angel deluxe tubing machine, make your own cigarettes and save!!
The tuber machine is fast and easy to use.
Very practical thanks to its metal arm, the cigarette tube machine is used even more simply than a regular tubing.
Care tips for cigarette makers:
The injector and tobacco holder are easy to clean using a cotton swab and hot water and soap. Remove excess tobacco as much as possible. Make sure all moving parts are dust-free and oiled (with multi functional household oil or WD40). These cigarette machines will be able to use you for a long time if you maintain them properly.
Our opinion:
We recommend using the best cigarette tube, not all cigarette tube have the same flavor or are easy to fill! Also, most tobacco manufacturers have made their own tubes in such a way that you smoke the same experience as a regular cigarette.
These cigarette machines are all available in our shop if you prefer not to buy online, we also gladly help you with your choice.